Bonjour, Mesdames et Messieurs. You might have gained insights of Bordelais wine. Today we are going to discuss Bordeaux right bank in depth. The right bank refers to wine regions at the east side of Gironde Estuary and areas located rightward along with Dordogne River including Côtes de Bordeaux (Blaye, Cadillac, Castillon and Francs), Côtes de Bourg, Fronsac, Canon Fronsac, Lalande-de-Pomerol, Pomerol, Saint-Émilion and Saint-Émilion satellites (St-Georges, Lussac, Montagne and Puisseguin).
Regional profile of the right bank
All the regions in Bordeaux are influenced by a macro maritime climate, where lie on the 45th parallel north that are characterised as cool climate areas. Due to the double-sword maritime impacts, they benefit from extended growing season but at the same, variable autumns which a raining autumn can ruin a year by consequent fungal diseases or unwanted grape dilutions as vintage differences, see "Terroir & vintage".
The left bank consists of flat vineyards with warm alluvial soil that is suitable for late-ripening Cabernet Sauvignon and Petit Verdot, owned by large estates while the right bank is mostly situated on slightly elevated hillsides with cold limestone, clay soil that is ideal for early-ripening Merlot and Cabernet Franc, owned by relatively small producers. Garagistes refers to tiny producers, compared to large Châteaux at the left bank which sometimes have vineyards more than 100 hectares, who make extravagant and rare wine in Pomerol and Saint-Émilion such as Château de Valandraud, Château Le Pin or Château Petrus.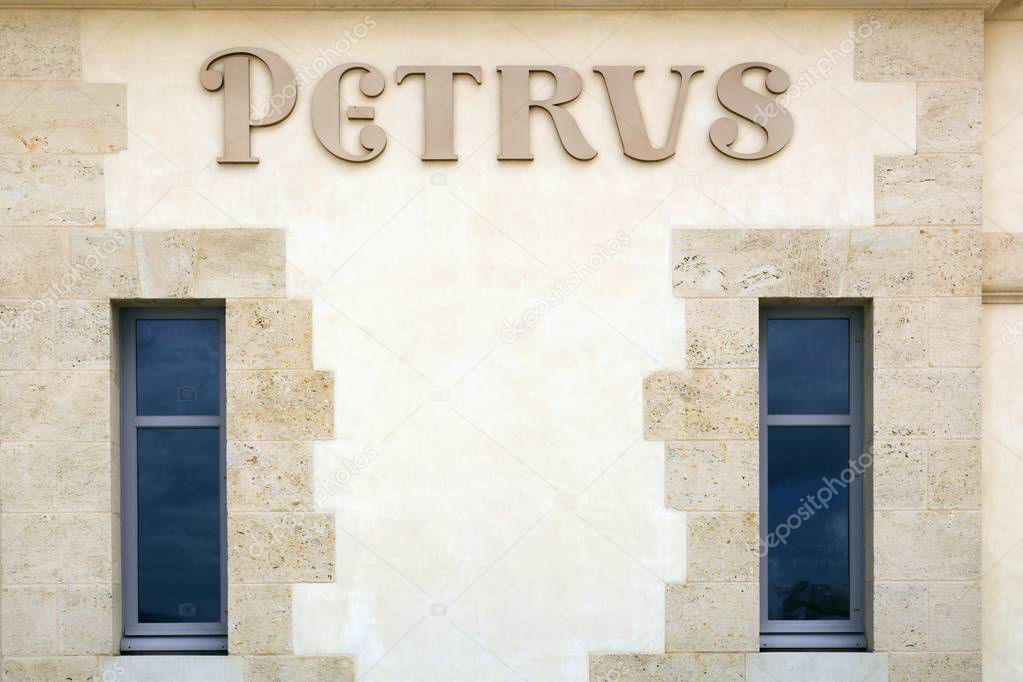 There are two major differences between the left and right bank.
Topographical difference
Compared to Médoc Peninsula, most vineyards at the right bank are located on gentle slopes which the highest point is 100 metres above sea level, compared to the highest point is 45 metres at the left bank. The particular terrain at the right bank perhaps contributes to two chief viticultural benefits. First of all, drainage is more likely to be favourable on elevated vineyards. For the east side of Gironde Estuary, the soil contains less gravels which is compact and quite often waterlogged after raining that may result in excessively vegetative growth and non-heat refection for late-ripening varieties. Most vineyards on hillsides do not significantly suffer from the situation because of the terrain. As a result, they possess favourable natural drainage that helps water on surface drawn off. Unlike hilly vineyards spread out the right bank, Pomerol and Lalande-de-Pomerol are fairly flat, at 30 metres above sea level, with partially gravels, sandy soil and predominantly iron-rich clay soil.
Geological difference
As aforementioned varied soil profile for both left and right bank, it can be seen that soil is varied and results in different varietal plantation. Because clay-limestone soil possesses smaller particles compared to gravels, that is very likely to be waterlogged, this type of soil is classified as cold soil which is inadequate for Cabernet Sauvignon but adequate for Merlot or Cabernet Franc. Limestone soil provides refreshing acidity, elegance and polished tannins while iron-rich clay soil contains ample nutrients which the resulting wine is bold, concentrated with deep colour. Interestingly, Cabernet Sauvignon is uncommonly seen in the right bank except for the border between Pomerol and Saint-Émilion where the soil contains gravels derived from glaciation during the Quaternary era.
References
The Oxford Companion to Wine 4th Edition, Robinson. J and Harding. J.
French Wine Scholar, Study Manual, 6th Edition, Camus. J and Airey. L. M.
Left and Right Bank Bordeaux: What is the difference?
https://www.thewinecellarinsider.com/wine-topics/dirty-little-secret-soil-terroir-bordeaux/
https://www.grandvinwinemerchants.co.uk/knowledge/the-soil-in-bordeaux
Distinctive features
https://www.thewinecellarinsider.com/bordeaux-wine-producer-profiles/bordeaux/st-emilion/
THE GARAGISTES OF SAINT-EMILION
https://images.pexels.com/photos/1694359/pexels-photo-1694359.jpeg?cs=srgb&dl=pexels-niki-nagy-1694359.jpg&fm=jpg
https://pixabay.com/photos/grapes-wine-wine-country-red-921467/
https://depositphotos.com/159022766/stock-photo-facade-of-chateau-petrus-in.html